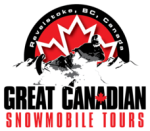 Of all the decisions you'll make on this trip, hiring a local guide will never be the wrong one. Relieve yourself of the guesswork, learn new skills and riding techniques and visit new riding areas. Above all else, having a guide will help you stay safe. With Boulder Mountain boasting an elevation of over 5000ft and 46-65ft of fresh powder every year, Revelstoke is home to arguably some of the WORLD'S BEST snowmobile terrain. Make the ABSOLUTE most out of your Revelstoke visit by riding with an experienced, local back-country guide!
Riding in the Revelstoke and Sicamous, BC Areas
Private Guiding
$700CAD Per Day
Please contact for an exact quote.
Q: Why do backcountry guide services cost so much?
Liability Insurance, Tenure, Avalanche, First Aid Training, Radio and Communication Rescue Preparedness all play a factor.
Q: What is included?
A: Safety Meeting, Basic Avalanche Education, Riding Skills… Search for powder and local knowledge, epic riding areas.
Q: What is the cost of renting a snowmobile and avy kit?
A: Approximately $350-$450 PerDay
Q: How many riders can go with 1 guide?
A: Legal maximum is 6, but in the interest of safety we try to keep it closer to 4.  
Q: What sort of riding skills should a person have?
A: Anything from beginner to expert.
Q: What can be expected in terms of terrain?
A: We tailor the terrain to the ability of the group. 
Q: How should I prepare for this?
A: It's highly recommended that you have at least an AST1 and hopefully an AST2.  Work on having good cardio, ride as many days as you can before you come so you can take advantage of your guides knowledge and troubleshooting your riding techniques. 
Q: What are the necessities I should bring?
A: Full Avalanche Gear.  A transceiver that is less than 3 years old. Probe and Shovel.  Avalanche air bag (not necessary but recommended).  AT least 2 Litres of water or Gatorade.  High calorie food.  Extra base layer and extra socks. Depending on expected temperature that night, the appropriate amount of clothing (in case you have to spend the night).  
Radios are required.  Preferably a Garmin Rino or similar.  *If you don't have one, one will be provided for you at a cost.  
Q: What time does the day start and end?
A: Morning Meeting 8-8:30am. The meeting will cover rider skill level and experience. Weather conditions. Snow Conditions. Terrain Selection and the big picture plan for the day. We're usually home by dark, but for the sake of safety, be prepared to spend the night.
Q: How far will we travel?
A: Depending on snow and riding ability of the group, as little as 20km and as many as 150km. 
Q: Where do we leave from?
A: Our staging area depends on the chosen riding area.  
Q: How do I get the most out of my guided back-country adventure?
A: Discuss your expectations with your guide, be prepared and understand that the plan could change based on weather and or avalanche conditions.  Realize that your guide is a snowmobiler too and he understands that you want to get the most out of that day.  Communication is KEY! 
Q: Is there a risk of being caught in an avalanche?
A: All of the riding areas in Revelstoke and Sicamous (that we guide in) are considered avalanche terrain.  The terrain varies from simple to complex.  Snow conditions and weather change daily (and often hourly).  No two days are the same.  
Q: What do we do if someone is caught in an avalanche?
A: This is something that will be covered in the morning meeting.  
Q: Will there be Cell Service?
A: No. All cell phones are to be turned off or on Airplane mode AT ALL TIMES while you are being guided. Unless explicitly given permission by the guide.  
Q: Who is NOT a good candidate for a Back-Country Guided Expedition?
A: People who think they already know it all and refuse to take direction or pay attention. Almost everyone else can have a good day as long as the expectations are discussed with the guide before the day starts.  
Q: What happens if we need to spend the night out there?
A: It is not likely, but has happened.  Come prepared to spend the night.  This will be discussed in the morning meeting.  
Q: What happens in an emergency, or if someone is lost or hurt?
A: There are protocols and systems in place.  This is one of the things you're paying for when you hire a guide.  This will be covered in detail at the morning meeting. 
SAFETY FIRST, ALWAYS!
Q: What areas do you ride in?
A: We ride in both the Revelstoke and Sicamous areas.