If a lack of the fluffy white stuff is threatening to bring your snowmobiling season to a halt…fear not! REVELSTOKE HAS THE SNOW! It's here as usual, Revy is enjoying another year of excellent powder compared to many parts of the USA and Canada. Our unique positioning within the stunning Selkirk and Monashee Mountain ranges next to Canadian Rocky Mountains, offers consistently deep snow year after year. Don't let those tweets about global warming and desert like conditions in other snowmobiling areas get you down. Revelstoke Base Camp Guest House invites you to join us for a spectacular sledding season! Celebrate your love for winter among the pristine beauty our location has to offer. If you have never snowmobiled in the Revelstoke backcountry, Base Camp Guest House can provide you with a trained guide.
Cant Find Pow For Sledding?
Everyone loves a winter getaway! Even if your location is experiencing the driest winter in decades, there is still hope! Stay with us at Base Camp Guest House and Cabins enjoy the majestic beauty of the mountains in Revelstoke, BC from your doorstep. Looking for an exciting challenge? Talk to us about backcountry snowmobiler guiding and discover untouched beauty like never before. Discover why Revelstoke, British Columbia has earned such a positive reputation and draws sledding enthusiasts from all across the globe! We live and breathe snowmobiling. We understand how annoying it can be to have the perfect winter vacation booked and then have to change plans due to a lack of cooperation from Mother Nature. This is why we want to shout from our mountains "Come To Revy! We've Got Your Sledding Vacay Covered!" We are closely linked with the Revelstoke Snowmobile Club and Great Canadian Tours, so we have all your needs covered!
Ride Boulder, Turtle and Frisby Riding Areas From Your Cabin!
All you have to do is call us, book your accommodation, and load up your gear! We have an exceptional property with various amenities, ideal for 2 -32 guests. Choose from a house setting or individual cabins or suites. Our ride–in, ride-out location enables you to drive up and utilize our facilities, with ample room to park and easy loading and unloading. All suites have private hot tubs, boot driers and fully equipped kitchens to allow you to relax after an epic day in the Revelstoke backcountry.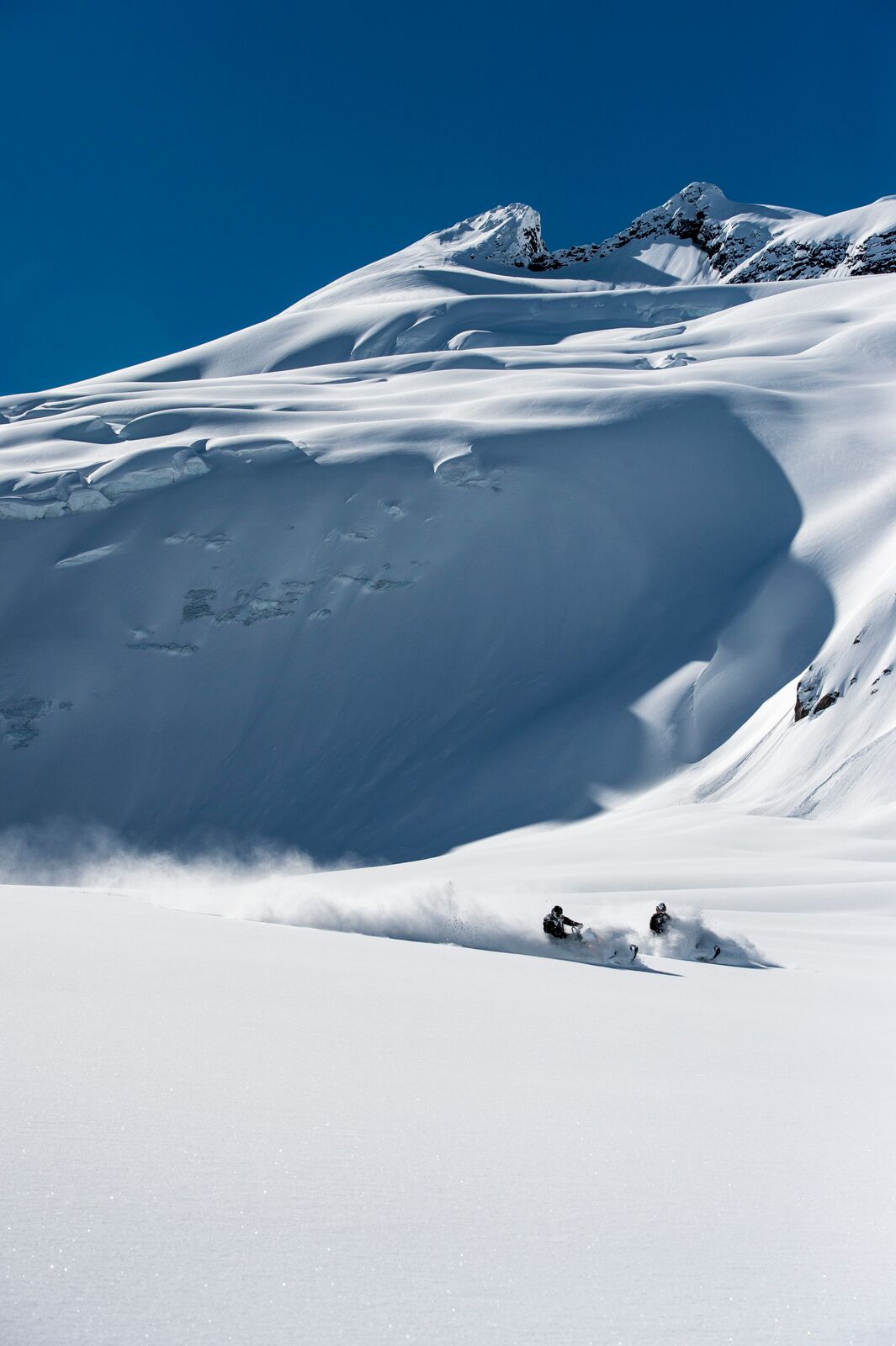 Revelstoke's Accommodation Has Beauty & Fun For Everyone!
Halfway between Vancouver and Calgary, Revelstoke BC is the gateway for Glacier National Park and  Mount Revelstoke National Park, two awe-inspiring Canadian National Parks. Experience snow-capped peaks and endless mountain views along with our friendly hospitality, gorgeous evergreen trees and wildlife extraordinaire. Enjoy local shopping, many great restaurants and excellent well maintained hiking, downhill mountain biking and motocross track/trails. The Revelstoke Mountain Resort and Mountain Coaster are ten minutes from Base Camp Guest House and Cabins. Three Vally Gap is 13km west of  and the Enchanted Forest is 20kms west on the Trans-Canada Hwy.