My Grandma Marie was an excellent Bread Baker.
Born in 1910, she was a child of Irish immigrants to Canada, the mother of 6 children and the wife of an alcoholic.  She was hardy in a way that only people who've survived 2 World Wars and the Great Depression could be, and at 4-9 inches tall, was afraid of nothing and was known to stare down and scold even the most hardened criminals for their perceived moral transgressions.
Her eyesight faded in her later years, but her tenacity won out and she could be found, on many occasions, baking bread late into the night in my Aunts tiny farmhouse kitchen.
With the kitchen so dark that at first it appeared empty, and the only giveaway being the occasional sound of dishes clinking and drawers and cupboards closing softly, there was my grandmother, bent and shrunken, feeling her way through the process of baking bread; the exact same process her mother had shown her when she was a young girl.  She knew it by heart, and hummed to herself as she worked.  Sifting the flour.  Tasting the salt.  Proofing the yeast.  And kneading the dough.
She would sit while the bread rose, and sit some more while it baked.  And in the morning, when everyone else was getting up, she would retire quietly to her room.  Two fresh, buttered loaves, resting on top of the warm stove.
This is not my grandmothers recipe.
And to be honest I'm not a whole lot like my grandmother.  I have a terrible singing voice and I'm terrified of almost everything.  But one thing I did inherit from her was the desire to keep my people fed.
When Lorne & I decided to adopt the Ketogenic way of eating I knew the bread would likely be the hardest part of transitioning our daily diet.  As a Snowmobile Guide, his daily forays into the Revelstoke back-country mean he needs good nutrition, and he needs to be able to pack it with him.  Should something happen and he is forced to spend a night or two, his emergency rations could easily mean the difference between life and death.  For him, these sandwiches are a MUST!
From start to finish it took over 2 months (and countless failed attempts) to get this bread to its' final result.  I won't lie, it doesn't come close to my grandmothers buttery loaves, but it is miles above the gritty cardboard-like keto concoctions found on the market today.
At Revelstoke Base Camp Guest House we will see upwards of 3000 Guests during our busy season.
…It is impossible to bake for them all, but if I can carve out the time, I try to offer our guests a sample of what a healthy "wheat alternative" tastes like.
The ingredients are not cheap.
And, like anything worth doing, the process has a learning curve, but I promise, when you are 97 years old this recipe will have become so second nature to you, you'll be able to make it with your eyes closed.
WET INGREDIENTS
1 Cup Coconut Oil, Melted
1 Cup Almond Milk, Warmed
1 Tbsp Apple Cider Vinegar
DRY INGREDIENTS
2 Cups Almond Flour
2 Cups Coconut Flour
1/2 Cup Flax, Ground
1/2 Cup Psyllium, Ground
1 TBSP Pink Himalayan Salt
1 TBSP Baking Powder
1 TBSP Baking Soda
1/2 Cup Pumpkin Seeds, Smashed (Optional)
EGGS
12 Large Fresh Farm Eggs
4 Cups Warm Water
Oil and Flour your 9×5 Glass Dishes.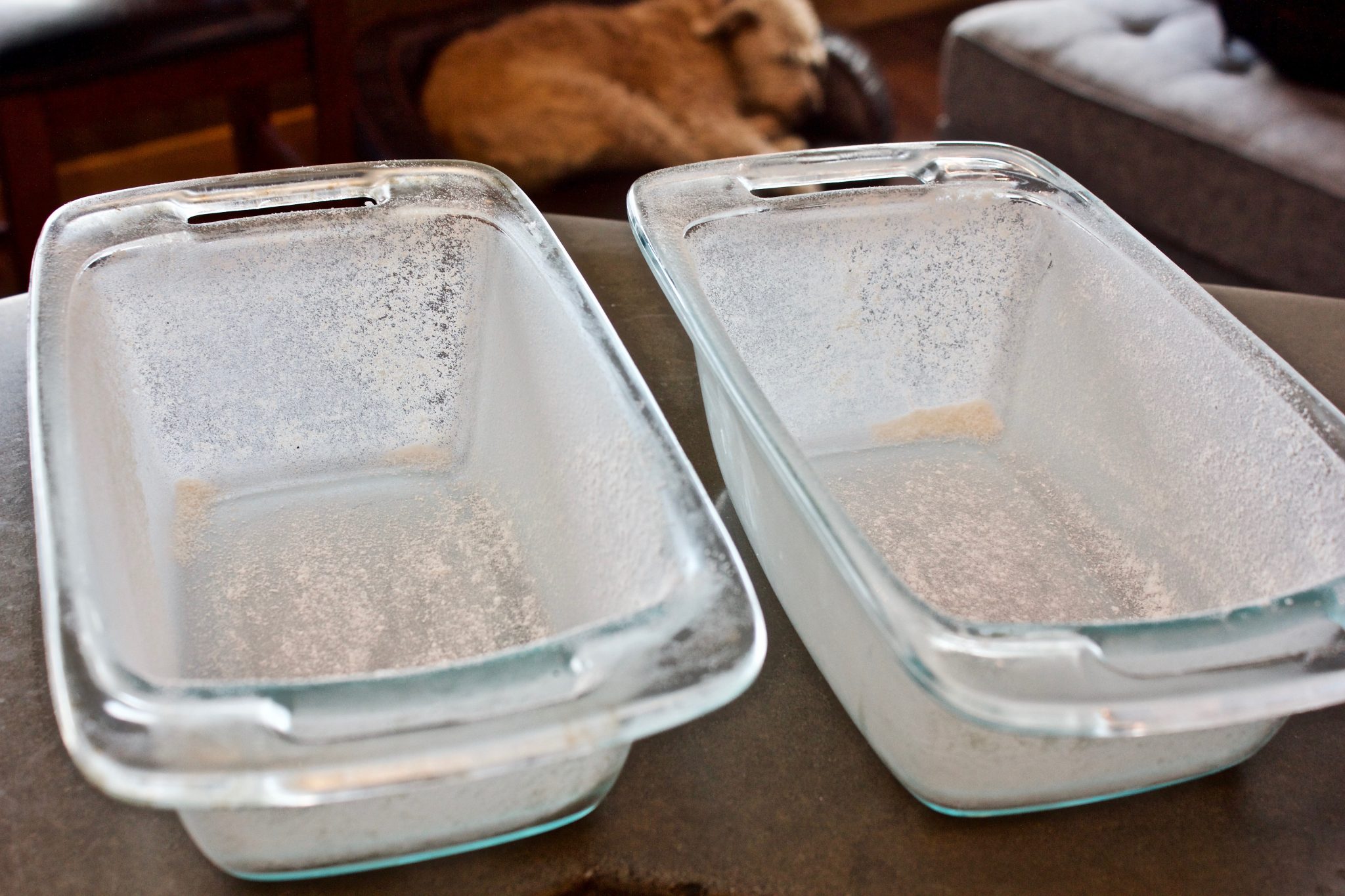 3. Whisk together dry ingredients into large bowl
4.  In a medium sauce pan warm the wet ingredients on the stove top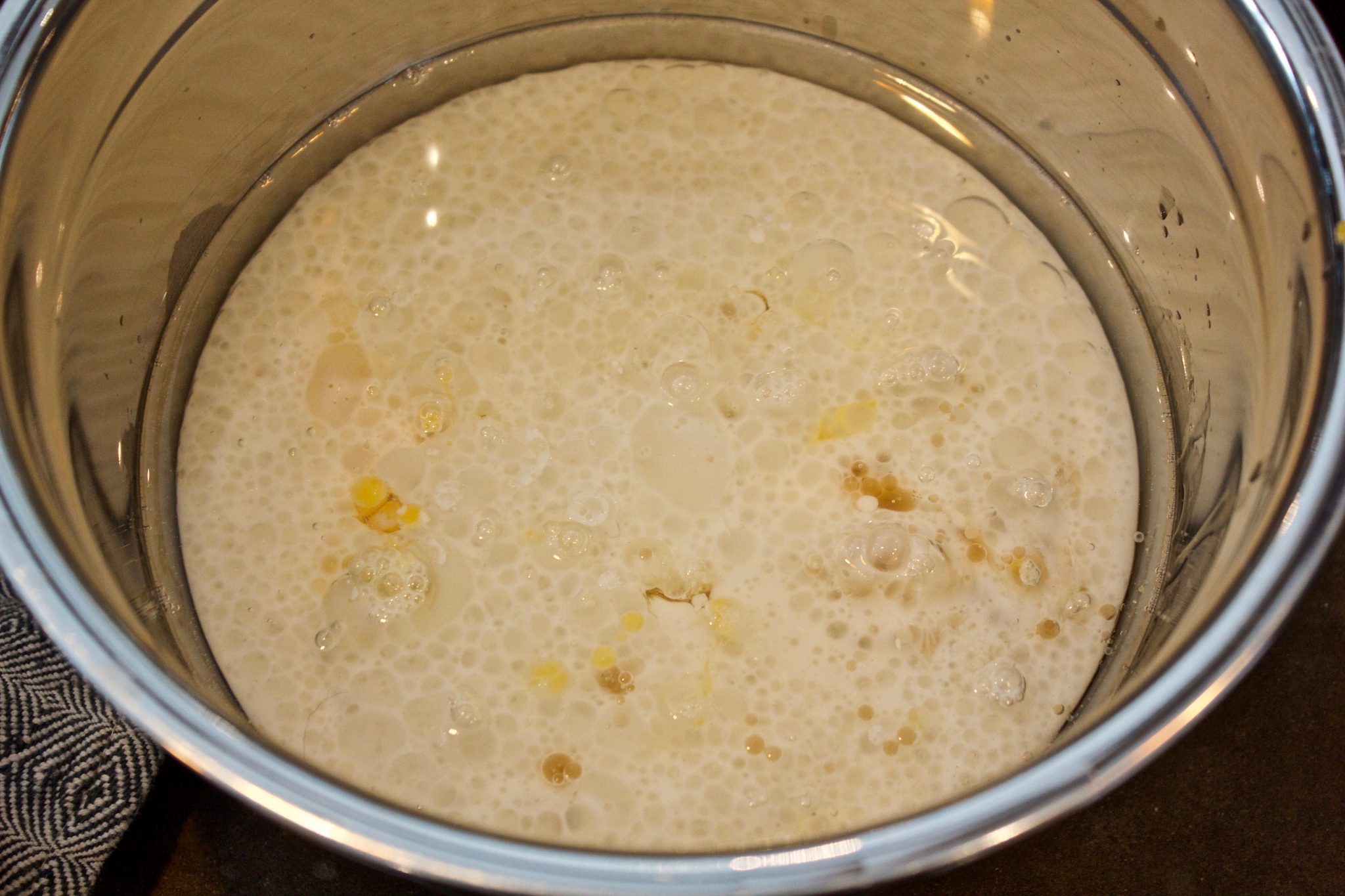 5. Separate 8 yolks from whites.  Add whites to large bowl.  Add yolks to wet ingredients.
6. Add 4 remaining Whole Eggs to Wet Ingredients.  Remove from heat.
7.  Beat whites into stiff peaks with electric mixer and set aside.
8. Beat wet ingredients (until just mixed) and pour into dry ingredients
9.  Mix Wet & Dry by hand until well combined.
10.  Add 3 to 4 Cups of warm water, (slowly while hand mixing) until well incorporated.
11.  1 cup at a time, add Egg Whites to batter.  Do not completely mix in as the unmixed whites will add levity to the bread.
12. Split dough evenly between 2 floured baking dishes.
13.  Press down with the back of a spoon or spatula.  Shape with a slight dome in the centre.  Slice a line down the centre of each and sprinkle with pumpkin seeds.
14.  Put in oven and immediately reduce heat to 325F
15.  Bake for 90 minutes or until internal temperature probe reaches 200F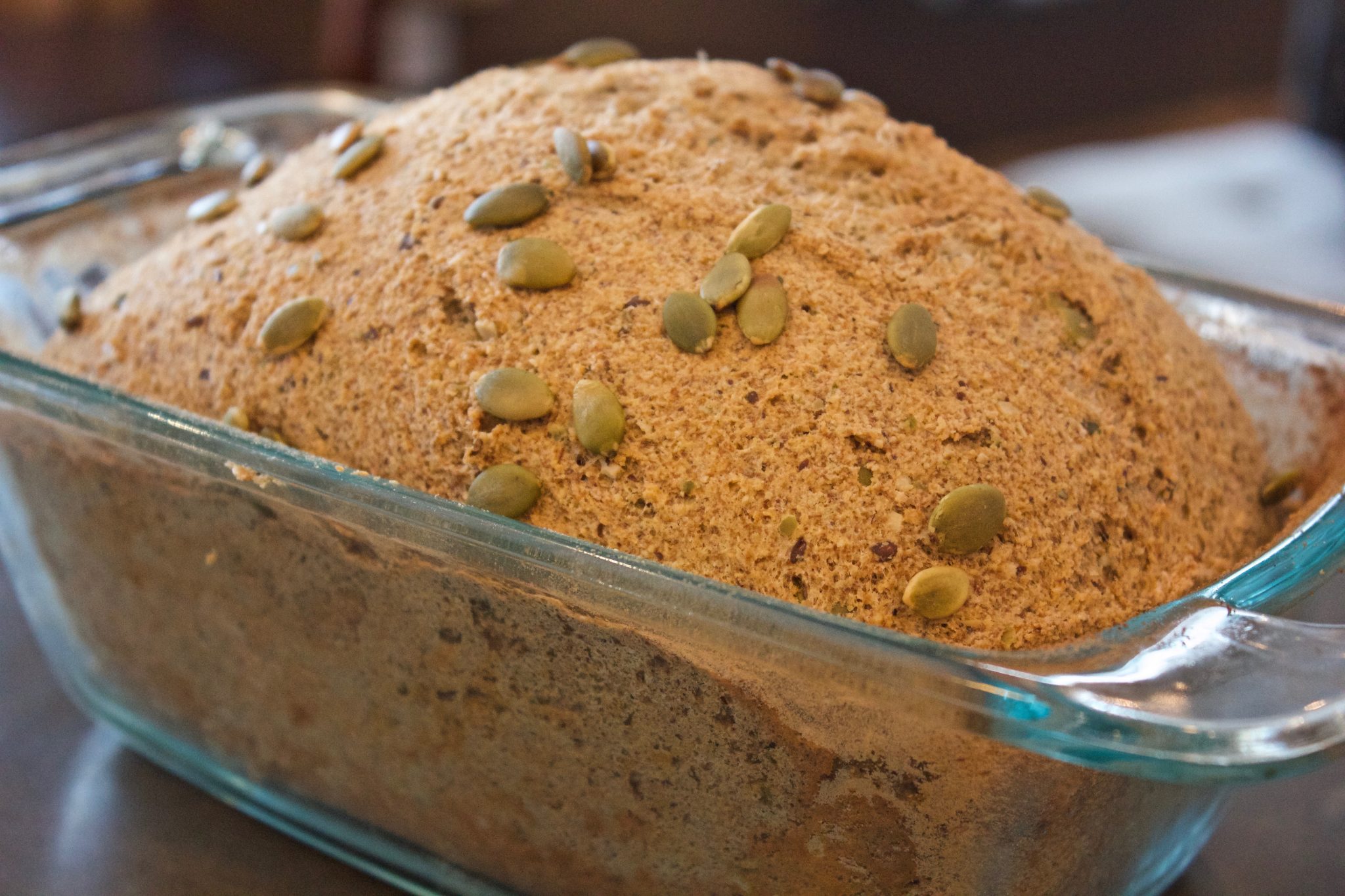 16.  Let cool completely before removing from dishes.